General Hieu, a Combat Fighting General?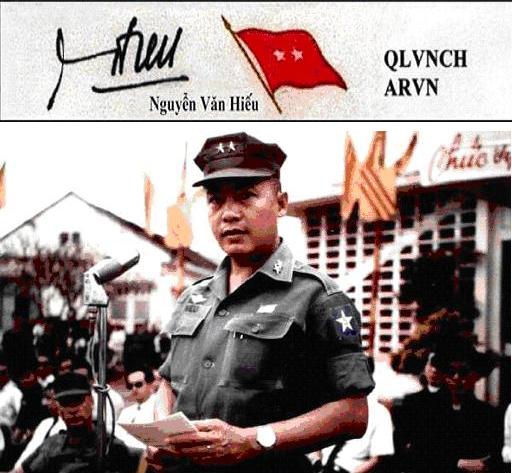 A Rare Commodity in the Vietnam War
...
The fourth reason was the element of partisanship. In 1970, Allan Goldman established a list of generals by partisanship inclination toward Thieu or Ky. In selecting commanders for division and corps, President Thieu did not rely on the criteria of military abilities but aimed at recruiting "loyal subjects" who were void of the desire to foment coup. It was why General Cao Van Vien was kept in the position of General Chief of Staff Chairman for such a long period from 1965 to 1975; and among the commanding generals of division and corps, the ratio of attendees and non attendees of the USCGSG was 9/25. Furthermore, General Do Cao Tri was kept out of the military as an ambassador to South Korea (1965-1969); and General Nguyen Van Hieu was banned from the military as an anti-corruption special investigator under Vice-President Tran Van Huong (Feb 1972-Dec 1973)
The fifth reason for the shortage of combat fighting generals in the Vietnam War was the lack of in depth studies pertaining to the various big battles in which the multiple facets of a battle were addressed, comprising analysis of intelligence on enemy intentions, of planning for attack or counter-attack, of the unfolding process of control and command, of implementation of different tactical phases, etc... For example, in the case of the retaking of Quang Tri, General Le Van Than, an artillery officer and I Corps Chief of Staff at that moment, was thought to be the main agent rather than General Ngo Quang Truong. Or in the case of the battle of Kontum in Summer 1972", General Ly Tong Ba reclaimed his merit while Colonel Trinh Tieu gave credit to General Nguyen Van Toan, II Corps Commander.
Combat Fighting General Hieu
General Hieu was well-known as an incorruptible general, but people do not know him to be a combat fighting general who relished in attacking the enemy with well thought tactics and strategy, who was skillful in the use of all types of army branches, be it armor, artillery or air force, and all types of units, be it top-notch like rangers, marine corps, airborne, special forces, or be it ordinary like local and militia forces.
Victories that General Hieu had achieved in the three big battles of Pleime, Than Phong 1 and Duc Hue/Svay Rieng are sufficient to qualify him to be placed in the category of combat fighting generals.
Pleime
Both the North Vietnamese Communist side and the American side viewed the battle of Pleime - or the battle of Ia Drang (to be more accurate the battle of Chu Pong) - in the trilogy of Pleime-ChuPong-IaDrang battles within the Pleime Campaign - as their respective first big large scale battle; the NVA side committed the 32nd, 33rd and 66th Regiment; the American side threw in the 1st, 2nd and 3rd Air Cavalry Brigades. But nobody talks about the major role played by ARVN II Corps Command, in general and in particular by Colonel Hieu, II Corps Chief of Staff, in this entire campaign. This issue has been thoroughly addressed in the following series of articles:
The Two Principals Players Of Pleime Chess Game
Tactical Moves in Pleime Battle
Pleime Campaign and Pleiku Campaign
Command and Control Skills in Pleime Campaign
A Few Things You Should Know about Pleime-Iadrang Campaign
What Historians Failed to Tell About the Battle at LZ X-Ray
What was special in the conduct of the Pleime Campaign was that Colonel Hieu outsmarted the enemy and showed his mastering skill in the control and command area, including his subtle manipulation of American commanders.
Colonel Hieu assessed the battlefield scene swiftly, anticipated all enemy schemes and succeeded in dismantling them with the limited means available to him, from the first phase of overcoming the mobile ambush in order to liberate the camp under siege with the Armored Relief Task Force, to the final phase of pursuing and annihilating the enemy to the very heart of its stronghold with the Airborne Brigade.
He also knew to take advantage of his holding of accurate and meticulous intelligence pertaining to the locations and conditions of all enemy units, from headquarters to tactical, which enabled him to persuade the American commanders to listen to and to act on his suggestions related to operational concept and scheduling; and he did so with such subtlety and discretion that outsiders and even the commanders involved were convinced that it was the American command that was in total control in the battle of Iadrang (or rather Chu Pong).
Moreover, he demonstrated his great ability in putting to use all the various types of modern armaments, such as tactical attack helicopters and strategic B-52 bombers as well as in maneuvering different types of units as appropriate, both American and Vietnamese: airborne rangers, special forces, cdgi, infantry, marine corps, air cavalry, armor, artillery and air force.
He also showed how versatile he was in the implementation of all types of tactics: envelopment, counter-ambush, camp relief, pursuit, ambush, exploitation, attack and destroy.
Than Phong 1
Two months prior to Pleime Campaign, Colonel Hieu revealed his trait of a combat fighting commander in the Than Phong 1 operation. This operation has been narrated in the article Road Clearing Operation.
What was special in this road clearing operation was that Colonel Hieu made use of a diversionary tactic which bogged down the enemy troops into paralysis, preventing them to maneuver into ambush formations along the road with a simultaneous deployments of units of 22nd Infantry Division, 3rd Armored Squadron, Airborne Task Force 2, Regional Forces, CDGI, Marine Task Force Alpha, 42nd Regiment and Group 20 Combat Engineer in various directions, along Route 1 from Qui Nhon to Tuy Hoa, Route 14, and Provincial Route 7 from Phu Bon to Tuy Hoa, and also at Le Thanh District and at Le Bac. In other words, "the essence of the concept was to forestall ambushes rather than intervene to disrupt and counter ambushes with relief forces."
Duc Hue/Svay Rieng
The batte of Duc Hue/Svay Rieng was the last biggest battle conducted by the ARVN which occurred in April 1974. Colonel Legro, DAO chief intelligence officer, has recounted this battle in detail. General Hieu who was III Corps Deputy Commander/Operations assembled a force at corps scale aiming at relieving camp Duc Hue under pressure imposed by NVA 5th Division, with 20 mobile infantry battalions surrounding the Parrot Beak area, then launched a cross border attack 16 kilometer deep into Svay Rieng with three armored task forces: 315th Task Force comprising 15th Armored Squadron, 64th Ranger Battalion and spearheaded medium sized armored unit; 318th Task Force comprising 17th Armored Squadron, one Ranger battalion, one tank unit; 310th Task Force comprising a battalion belonging to 18th Division and one battalion belonging to 25th Division and Group 3, 10th Armored Squadron. Additionally, the operation was supported by two battalions from IV Corps and by artillery and VNAF. This blitzkrieg styled operation was characterized by the use of speed, secrecy and coordination of a multi-facet operation.
Do Xa, Eagle 800, Snoul
Besides the three large scale battles at divisional and corps levels, General Hieu had also performed three significant major ones at regimental level: Do Xa in 1964, Eagle 800 in 1967 and Snoul in 1971.
In the Do Xa operation, bearing the official name of Quyet Thang 202 (Sure Win 202), General Hieu who held the position of II Corps Chief of Staff at that moment under the command of General Do Cao Tri, dispatched with audacity a two pronged troop formation comprising Task Force A with three ranger battalions under the command of Major Son Thuong and Task Force B with units of 50th Regiment/25th Division under the command of Major Phan Trong Chinh deep inside the impenetrable VC stronghold of Do Xa, situated at the junction of Kontum, Quang Ngai and Quang Tin. These two task forces were also reinforced with 5th Airborne Battalion under the command of Captain Ngo Quang Truong.
Thông Báo: Trang nhà Trúc-Lâm Yên-Tử nhận đăng quảng cáo cho các cơ sở thương mại. Rất mong đón nhận sự ủng hộ của quý độc giả ở khắp mọi nơi. Đa tạ. Xin vui lòng liên lạc qua email truclamyentu@truclamyentu.info để biết thêm chi tiết. We add your banner or small texted-based on our website, please contact us at truclamyentu@truclamyentu.info. Thanks
Đang xem báo Trúc-Lâm Yên-Tử