General Hieu, a Military Génius?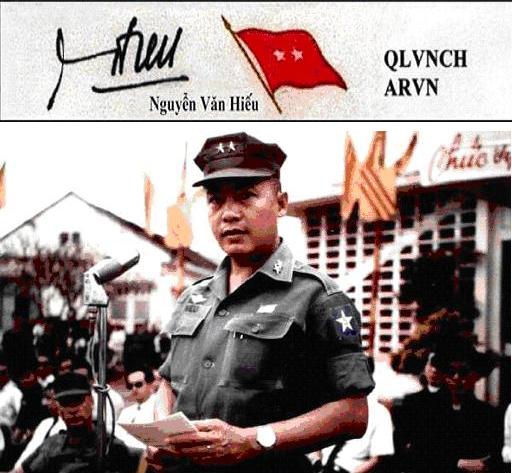 Général Nguyen Van Hieu
When people saw that a study group of Viet Nam history based in France by the name of Truc Lam Yen Tu proclaim General Hieu as one among the Four Vietnamese Great Military Geniuses - Trần Nhân Tông, Trần Hưng Đạo, Nguyễn Huệ and Nguyễn Văn Hiếu - the majority expressed surprise and a few uttured protest. Surprise, because that name sounded unfamiliar. Protest, because it appeared preposterous. Only a very few felt it was appropriately so. Among this latest category is reverend Trần Văn Kiệm who considers General Hieu to be the most competent among ARVN generals:
Previously Nguyen Hung Kiet (Trung Tướng Nguyễn Văn Hiếu, nguoivietboston.com, August 29, 2009) rated General Tri and General Hieu as positions #1, then and #2. I dare to rearrange into #2 then #1. Recently, after doing some in depth research, I took the liberty to eliminate General Tri from the honor list and place General Ty at position #2 behind General Hieu. I did so while I have not studied in depth about those generals who had committed suicide rather than surrendered to the Communists. To establish a list of deities as such at the present time is considered to be too audacious of a move and too early, which should be left to history the task of rating. Nevertheless, since the current generation already has the opportunity to hear and see, it is advisable to speak out to guide the following generations.
The two attitudes of surprise and protest would vanish, once General Hieu's military career is known. The acquisition of such a knowledge is rendered possible by a thorough reading of General Hieu's webpage, which contains plentiful of objective documents that show General Hieu possessed traits that are particular to a military genius as defined by the Truc Lam Yen Tu group:
A military genius is a General who is excellent in the maneuvering of troops, with plentiful of clever strategems under his shirt sleeve, who knows how to assess the battlefield with accuracy in space and in time; furthermore, who possesses a genuine love for his soldiers. He takes care of the well being of his soldiers, does not use them as steps for his personal advancement, considers them as his own family members, values their lives, minimizes their sacrifices and yet is able to accomplish resounding victories on the battlefield. Furthermore, his patriotism is above all else, partisanship or parties.
In order to facilitate the formulation of a personal opinion about General Hieu as a military genius, without having to go over his entire webpage - which amounts to thousands of printed pages - following is a list of selected articles which as a whole would allow to tell if General Hieu is or not a military genius.
A Few Major Battles
- Snoul Battle and Its Consequences
Tactician
- General Hieu's Unique Combat Style
- General Hieu and Tandem Infantry Armor Formula
- General Hieu's Opinion About The Vietnamization Program
- The Two Main Players of Pleime Chess Game
- Pleime Campaign and Pleiku Campaign
- Command and Control Skills in Pleime Battle
Strategist
- General Hieu's View of VC Intentions
- General Hieu's Assessment of January 1975 Military Situation in III Corps
- General Hieu, a Tactician with a Strategist's Mind
- Question Concerning General Nguyen Van Hieu's Death
Altruist
- Simplicity, Honesty, Charity
A Sketch
- Quarterback versus Head-coach
- General Patton and his Counterpart General Hieu
- General Hieu, A Combat Fighting General?
Conclusion
Although his military talents were not fully put into use due to partisanship and cliques - at one period, from February 1972 to December 1973, he was discarded from the military arena altogether with the function of a Anti-corruption Special Investigator - General Hieu was fortunated enough to encounter opportunities which had allowed him to reveal his military genius traits at division and corps levels. If chances had provided him with larger battlegrounds with the command of a huger army, General Hieu would have undoubtedty exercised his command and control skills with the ease of a military genius.
Nguyen Van Tin
06 August 2010
Thông Báo: Trang nhà Trúc-Lâm Yên-Tử nhận đăng quảng cáo cho các cơ sở thương mại. Rất mong đón nhận sự ủng hộ của quý độc giả ở khắp mọi nơi. Đa tạ. Xin vui lòng liên lạc qua email truclamyentu@truclamyentu.info để biết thêm chi tiết. We add your banner or small texted-based on our website, please contact us at truclamyentu@truclamyentu.info. Thanks
Đang xem báo Trúc-Lâm Yên-Tử